Startup Spotlight: AskNeo
All Things Venture #014
Hey Everyone - Dez here from Apex Venture Studios. Let's talk about small businesses for a second. A small business, as defined by the Small Business Administration, is a business that is independently owned and operated, exerts little influence in its industry, and (with a few exceptions) has fewer than five hundred employees. It's estimated that there's more than 27 million small businesses operating in the US, and that they contribute around ~50% of total GDP. Said another way - small businesses are badass. They power our economy. They create jobs. And - they are the economic engine of our communities.
At the core of any small businesses success is their relationship with their customers, and that's where this week's startup, AskNeo, comes in. AskNeo was founded by Lio Slama, a serial entrepreneur and world traveler. We had the opportunity to catch up with Lio to chat about how AskNeo helps small businesses, what it takes to be an entrepreneur, and the differences between American and European Entrepreneurs.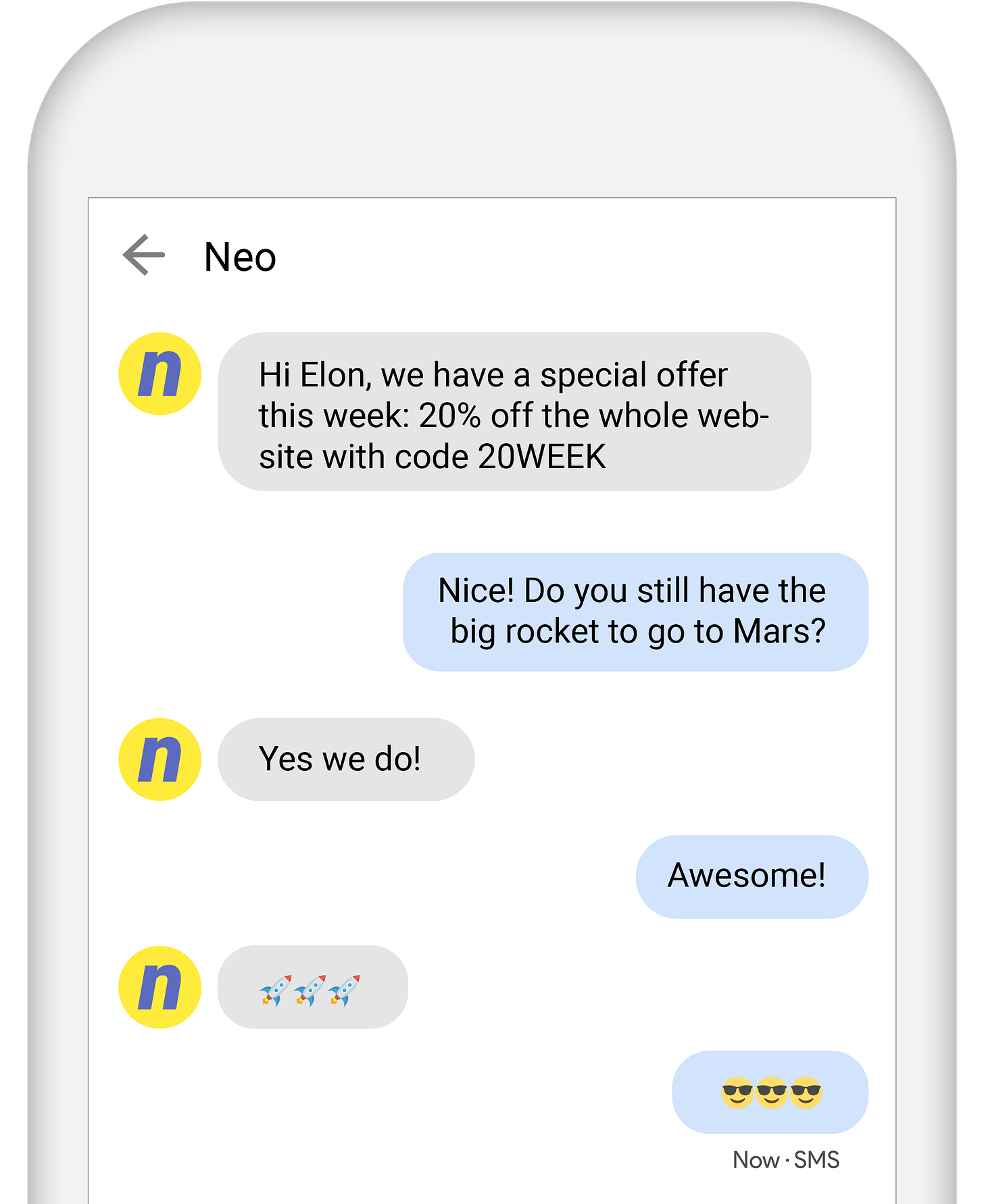 APEX: Can you describe what AskNeo is?
Lio: Askneo.io helps small business owners get closer to their customers through texting. Businesses pick their phone number, and start texting instantly. We allow them to provide personalized sales via SMS, with the help of a customizable chatbot.
APEX: Are your aspirations to become the Shopify of text?
Lio: Most of our customers are in wellness, entertainment and professional services. What they have in common is the need to send and receive texts personally, because they are all purpose-driven. They all have a need to connect in a personalized and authentic way at scale. Our mission is to help every purpose-driven business find their audience. Our vision is to foster trust between small businesses and their people.
APEX: What is the difference between the chatbot askNeo and other web based chat bots?
Lio: Our chatbot Neo is not web based. It works through SMS and is the first responder of any brand who cares about their customers. SMS is the best way to build trust and drive sales. Neo is fully customizable, with keywords and scripts. So when prospects and customers text a business, Neo asks questions automatically and saves data into their CRM. When brands need to broadcast offers and announcements, customers can reply by SMS. Trust goes both ways!
APEX: What led you to start AskNeo?
Lio: Who do you usually text? Friends and family. So why can't we text brands we like? And why can't they answer us? People are in demand of more authenticity and truth. They want an immediate answer and solution. That's where startups and small businesses can compete with big brands today. That's what we help them do: drive revenue through texting, by building a direct link with their audience, and bypassing big competitors' marketing campaigns.
APEX: Who are your early customers?
Lio: Our early adopters are in the wellness industry (beauty products, mind & body coaches, instructors), entertainment industry (online publications, podcasts, gaming), and professional services (marketing & web development, business consultants). They share the need to find a direct line of communication with their audience that is cheap, reliable, and scalable. Neo provides them with an immediate, no-code solution that helps them grow.
APEX: What's one of the biggest differences you notice between American and European entrepreneurs?
Lio: I've been told that European entrepreneurs don't know how to sell themselves. One of the things I've really wanted to learn is how to pitch in public. You should always practice pitching. I learned through my time at Columbia University and participating in Techstars. Our demo day last year was in front of a room full of 800 people. That was awesome. Europe is going in the right direction in terms of entrepreneurship. But they are consistently 10 years late, specifically France. The problem is not the taxes and regulations, it is the mindset. 
APEX: How would you close that gap?
Lio: I've lived all over Europe. Spain, France, Switzerland. I think what they're doing, creating more accelerators, is great but at the end of the day the mindset between the US and Europe is still very different. If someone wants to be an entrepreneur, they're better off moving to the US, Israel or South Korea.
APEX: What does success look like for AskNeo in the next 6 months?
Lio: Success means we keep finding customers who love our solution. It means we put our customers first, always. We listen to them, we understand their needs. We make sure they're happy. Success means millions of users make business through our platform every day using text. We're also looking to raise our Seed, so we can grow our team, grow faster, and quickly become the top platform to drive sales for small businesses.
APEX: Any advice for an aspiring entrepreneur?
Being an entrepreneur is a choice, with an extremely large amount of freedom. But you also have to understand the societal implications. You have the opportunity to create jobs. You become directly responsible for the lives of other human beings who trust you. You can't take that lightly. Looking back – don't avoid embarrassment. Don't avoid conflict. If you're embarrassed by something, or someone, or if there's a conflict, that's an opportunity. An opportunity to know each other better, to find a better solution together, to build something awesome that's gonna have a positive impact on a ton of people.
APEX: What is an interesting fact you would like to share with our readers?
Lio: I used to be an architect. I am also a modern art painter. I started tens of businesses in the past 15 years. The truth is: not anyone can build a tech startup. You need an extraordinary amount of resilience, a lot of flexibility, and above all, you need to find the right people to surround yourself with!
TL;DR - AskNeo helps small business connect with their customers through text
Check out AskNeo here, and don't forget to share All Things Venture!